Sendero Group and National Deaf-Blind Equipment Distribution Program
The goal of the National Deaf-Blind Equipment Distribution Program (NDBEDP), promoted by iCanConnect is to ensure that every person with combined hearing and vision loss has access to modern telecommunication tools and the training necessary to use them, granting every individual the opportunity to interact with the world as an involved, contributing member of society.
Purchasing new technology can be overwhelming and working with a great partner makes all the difference. Sendero Group has been developing and providing accessible technology to the blind and hearing impaired community since 1993. As Federal Grant awardees ourselves, we understand the great opportunity you have of making an impact through the use federal grant dollars. As such, we support the National Deaf-Blind Equipment Distribution Program by providing free Sendero GPS software with every BrailleNote Apex or Braille Sense PDA we sell to NDBEDP coordinators, a $1,400 value!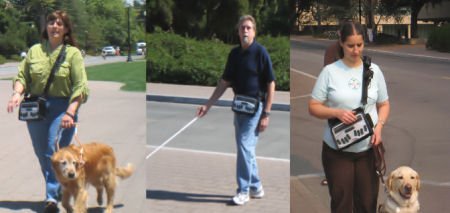 Not only will the Apex and Sense PDAs become a crucial avenue for your users' distance communication, but the addition of GPS will broaden their horizon in ways they never dreamt possible. Those who are familiar with GPS love the independence and broadening experience it provides as they navigate as a passenger or on foot to work, school, or the grocery store. Users who perhaps do not currently have an interest in GPS find themselves excited about the possibilities outside their doorstep once they grasp the power of Sendero. Read some User Stories. And those who maybe aren't so mobile still benefit from the virtual maps exploration of Sendero products that is now taught in schools across the country: learning about cities across the country, virtually exploring the gridded streets that Hurricane Sandy washed out, and building location literacy.
Sendero has a special NDBEDP price list and we're happy to work with you on payment terms that match Grant reimbursement schedules. Call our NDBEDP Accessible Technology coordinator, Katie Gilmore, at 888-757-6810 x 102, or contact us to set up your partnership today!