There is Always a Way
"It is better to travel hopefully than to arrive."
Mike and Crashing Through cover art

Mike May with Obama at White House

Mike May with Stevie Wonder

Mike speed skiing

Mike speaking at United States Airforce Academy

Mike delivering the commencement Keynote speech at Coker University

Previous picture in slide show
Next picture in slide show
Crashing Through
A book and movie based on Mike May's adventures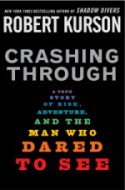 Crashing Through available in paperback.
"Crashing Through - A true Story of Risk, Adventure, and the Man Who Dared to See," a book by Robert Kurson from Random House. Bestseller, 2007.
Movie adaptations of the book have been written by Fox 2000 and Stone Village Pictures. New deals are in the works.
Nashville singer/song writer Sara Beck wrote and recorded Crashing Through. Listen to the Crashing Through song. This ballad encapsulates the crashing through spirit and story of Mike May, also recognized within the cover of her 2009 CD, Music for Lovers and Fighters. Also read the Sara Beck Serendipity story: a story about the serendipity of Mike meeting Sara and her performing with Stevie Wonder.
On the topic of "to see or not to see," The Blind Way Forward Blog gives an entertaining account of what the author would do with sight for one day, you can read his article The Bucket List.
About Crashing Through
In his critically acclaimed bestseller Shadow Divers, Robert Kurson explored the depths of history, friendship, and compulsion. Now Kurson returns with another thrilling adventure - the stunning true story of one man's heroic odyssey from blindness into sight.
Mike May spent his life crashing through. Blinded at age three, he defied expectations by breaking world records in downhill speed skiing, joining the CIA, and becoming a successful inventor, entrepreneur, and family man. He had never yearned for vision.
Then, in 1999, a chance encounter brought startling news: a revolutionary stem cell transplant surgery could restore May's vision. It would allow him to drive, to read, to see his children's faces. He began to contemplate an astonishing new world: Would music still sound the same? Would sex be different? Would he recognize himself in the mirror? Would his marriage survive? Would he still be Mike May?
The procedure was filled with risks, some of them deadly, others beyond May's wildest dreams. Even if the surgery worked, history was against him. Fewer than twenty cases were known worldwide in which a person gained vision after a lifetime of blindness. Each of those people suffered desperate consequences we can scarcely imagine.
There were countless reasons for May to pass on vision. He could think of only a single reason to go forward. Whatever his decision, he knew it would change his life.
Beautifully written and thrillingly told, Crashing Through is a journey of suspense, daring, romance, and insight into the mysteries of vision and the brain. Robert Kurson gives us a fascinating account of one man's choice to explore what it means to see, and to truly live.
Available Languages
Korean
Polish
Hebrew
German
Japanese
Finnish
Czech
Purchase Crashing Through
Free to NLS and Bookshare.org subscribers